To many Deepak Chopra will need no introduction and we've added a link here if you want to know more.  In keeping with Epiphany's commitment to authenticity and realism I can only tell you how I came to know Deepak Chopra and his works.
It all started in the early 1990s when I decided I should learn how to meditate.  My transcendental meditation teacher at the time was a Chopra devotee who quickly introduced me to the concept of Ayurvedic medicine. From there it was clear that the concept of inner stillness through meditation was central to all facets of Chopra's teachings. I wasn't ready to hear it though, giving up meditation at that time because try as I might I couldn't quiet the noise in my head.
Even though I had bought the book The Seven Spiritual Laws of Success soon after its release in 1994 it took me almost 12 years to read it, two more years to actually put it into practice and a year after that to start blogging on it. (For more on this see the post entitled Working the Seven Spiritual Laws.)
Chopra has written more than 70 books, including 21 NY Times bestsellers. His books have been translated into 35 languages and sold more than 20 million copies worldwide.  While I can't say I am an aficionado of his total body of work I can tell you the books, ideas and activities of Dr Chopra that have changed my life:
The Seven Spiritual Laws of Success
The Seven Spiritual Laws for Parents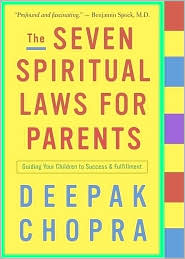 21 Day Meditation Challenges from the Chopra Centre.
Deepak Chopra collaborated with Oprah Winfrey recently to bring us the 21 Perfect Health Meditation.
You can learn more about Chopra at www.deepakchopra.com. I also follow him on Twitter.
.